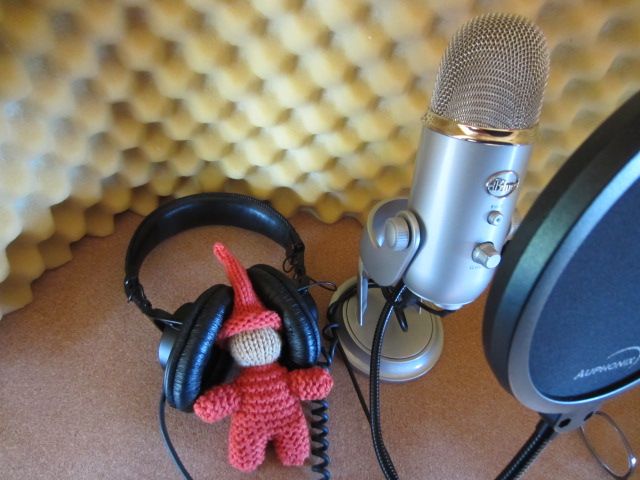 creative source on high (or low or wherever inspirations hang out.) Now, I'm not so sure.
1) PODCAST. That's what I thought would be brilliant. I could use it to give in-depth explanations and  back stories. Then I could use YouTube to demonstrate techniques more efficiently. My average YouTube program is 12 or more minutes long. My average watch time is 3.5 minutes. I want to match my programming to how you want to use YouTube. That, and if I don't have to paint and spackle (what my brother calls my make-up) before shooting, that would speed up the process by hours.
So much for that idea, Orville. 70+ hours and more tears of frustration than I've shed since my little motor home, Dorothy, broke down 110 miles from the nearest tow truck in northern Montana in 2004, I have a 20-minute first podcast. It probably won't be my last because once a person claws her way through a learning curve that involves buggy software and sinister websites [Apple, I'm lookin' at you] she needs to try it out a few times to be fair to it and herself.
I only hope it's fair to you as well, Gentle Knitters. CLICK HERE to hear This Knitting Life: Episode 1: Buttonholes and a Baby Boy.  Creating it was really fun. . . it was the syndicating, uploading to various outlets, etc. that was the pill).
2) I found more Barely Bruised books. They have slightly yellowed covers that still repel coffee and sticky hands (it's the plasticized cover that yellowed a bit but it and everything else is intact). They are $21 plus actual postage, a 36% discount off retail and once they're gone, they're gone. HERE'S THE LINK TO THAT BARGAIN.
3) I got an email last week from a concerned college professor of Fashion Design who refers her students to my YouTube programs. When she searched my name on YouTube some thumbnails came up that used my name and titles but the photos were clearly not related to knitting. More like "Blondes, Brunettes and Redheads" stuff. I sweep every couple days and report all such things to YouTube but if you find such a playlist I ask that you please report it too. I promise you. I have not changed my profession.
The sun is shining and I have a women-only dinner date with my beautiful daughter-in-law tonight. And I finished my first thrummed mitten 2 nights ago. My son says it looks like an indeterminate sea creature. Of course, I was showing him the inside with all those fluffs of fleece. 🙂 I say it looks like a very warm lolly-pop.
I hope your knitting is as sweet . . . and warm.
ch