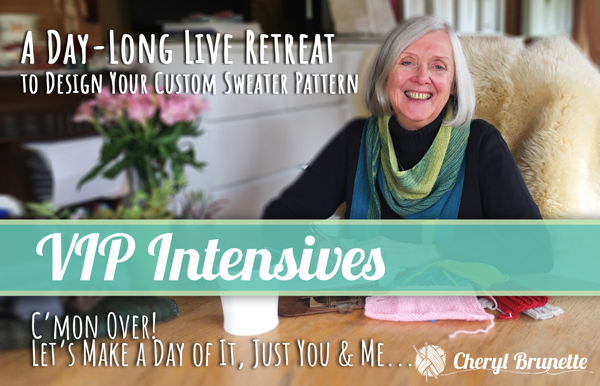 This is the fastest way for you to gain confidence in your sweater knitting and your knitting in general. You'll walk away from our 1-on-1 time together having created a custom crew-neck, set-in sleeve, classic-fitting sweater pattern based on your yarn, worked at your gauge, made to fit your body measurements. It is Your Master Pattern that will become the template you can use for design variations for all your future sweaters.
This 1-Day VIP Experience is for you if:
You want to make yourself a sweater that fits well and is handsomely finished.
You want help creating a Custom Master Sweater Pattern.
You've already made at least one sweater but you weren't happy with it and you're determined to learn how to make one that you can love.
You've already made at least one sweater that you were happy with but are not sure how to duplicate your success in a reliable way.
You sometimes struggle with or (or absolutely hate) the math involved in knitting a sweater and that whole gauge thing but know you must learn at least something about it. I can help You and Gauge become BFFs. (Best Friends Forever . . . you have probably known that for a long time but I only recently figured it out). It is so much easier than you think, and once you get it, you will say to yourself, "This makes so much sense," and you'll never have to relearn it or puzzle about it again.
You can't find a local expert who is willing and able to help you with this, someone whose expertise you trust.
You want step-by-step individualized attention from someone with enough experience to answer all your questions and if she can't, she'll tell you that straight up, research it, and get back to you.
You're excited to visit a one of the most scenic places in the United States, the Olympic Peninsula in Washington State.
This 1-Day VIP Experience is not for you if:
You've never made a sweater before.
Every sweater you have ever made for yourself is the finished piece of perfection that you envisioned from the start and you sometimes wear your sweaters just to get compliments :D. (There is the possibility, however, that we could design a custom VIP experience based exactly on what you want to learn).
You want to learn knitting from the comfort of your own home.
You can't stand a couple days of light drizzle and cozy gray knitting days near Puget Sound though that's not guaranteed. Sometimes we get downright rain, (but that happens seldom), and sometimes we get glorious, sunny, perfect-human-temperature days where the water is blue and the mountains sparkle with snow in the distance (but we don't like to advertise that).
You're not in a position to spend what the experience costs right now . . . (but it doesn't hurt to dream. I dream about river cruises on the Danube, near my family in Hungary, all the time. Everything starts with a dream . . .).
What's included in the VIP Intensive
A pre-session phone call to schedule our date and for me to learn more about about your experience and needs.
1 Three-Hour "Design Your Master Schematic" Session
1 Three-Hour "Create Your First Sweater Pattern" Session
Lunch at a locals' favorite restaurant during which you can pick the teacher's knitting brain clean
Your Custom Master Sweater Pattern
A post-session follow-up call to answer any questions that might come up once you're back home and working on your sweater
A hardbound, autographed copy of Sweater 101
A custom flash drive bracelet loaded with the Sweater 101 eBook and the companion video class, Finishing 101: Easy Finishing for Pullover Sweaters  and its printable index.
Here's what people have to say about this class when I've delivered it to a group. Results vary (:D) but you are likely to get even more out of an individualized session.
A limited number of spots are available each season.
The "Design Your Custom Sweater" VIP Intensive Experience is $750 . . . AND . . YOU CAN BRING YOUR BEST KNITTING PAL FOR NO EXTRA COST!!