Several days ago my son handed me his favorite sweater.  There was a hole. He knows to pay attention to such things as soon as they appear but this was near his elbow, he's a very active fellow, and he didn't notice it until it had grown . . . well, you see.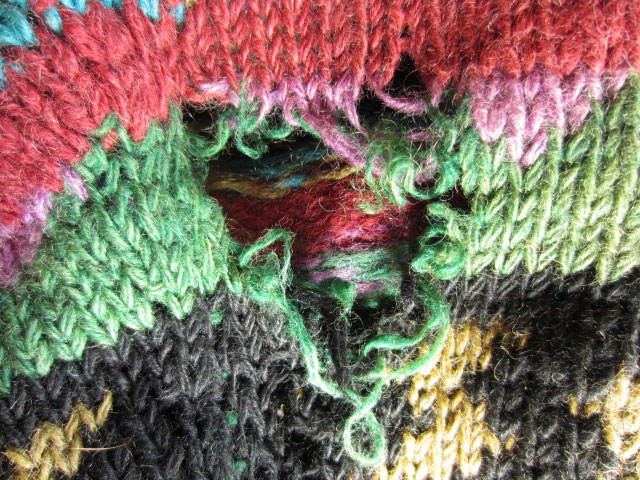 I didn't make the sweater though it was hand knit. A stranger from whom he bought a tractor gave it to him a few years ago because he happened to have it in his car and he thought it would fit my son.
So yesterday, with the late afternoon sun streaming in the studio window (a person needs good light for such projects), I started poking at it.   Fixing something like this is simply solving a series of small problems . . . asking "Ok, what should I do now?" over and over.
And after an hour or maybe two, it looked like this: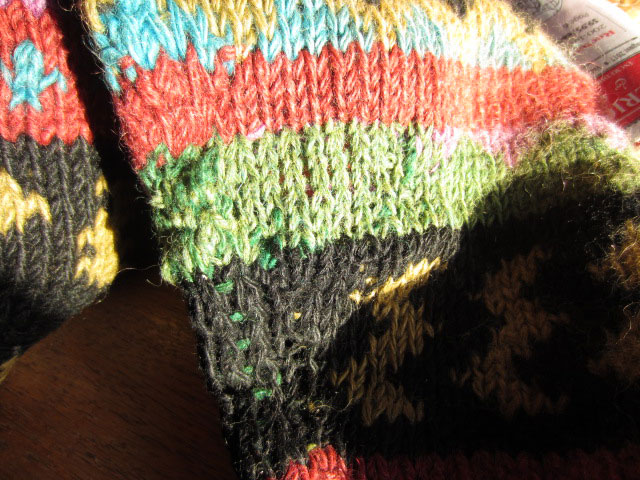 Notice that there is no purple pattern where there used to be one. I figured no one was going to stop her or his white horse to see if it was there.
It's not perfect. The sweater is sun-faded in many places, but it's his favorite. Last winter I cut off its raggedy, stretched cuffs and knitted new ones. It will get more holes and I will fix them until it's too threadbare to hold together. Because this is what we do in my family. We fix old things that can still have a useful life.
Other than that, I'm pretty much in a flurry of class preparation for the upcoming cruise. These are 5 new classes I'm teaching. I'm enjoying the process . . . and figuring out how I might share them with all of you who weren't able to join us. But that's in the future. There's this other set of raggedy, stretched cuffs to replace . . .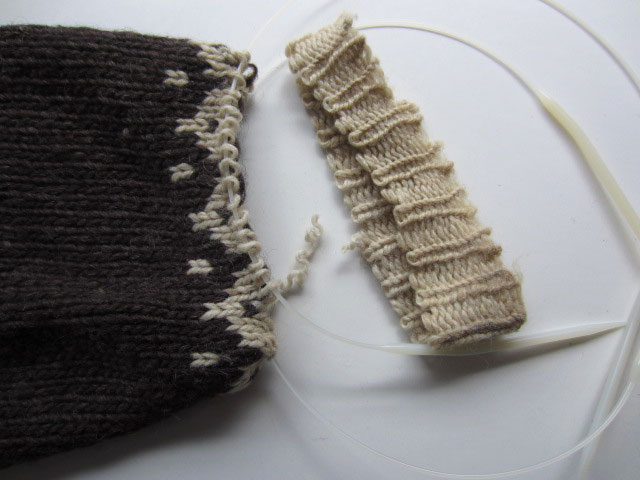 And this sweater I did make.