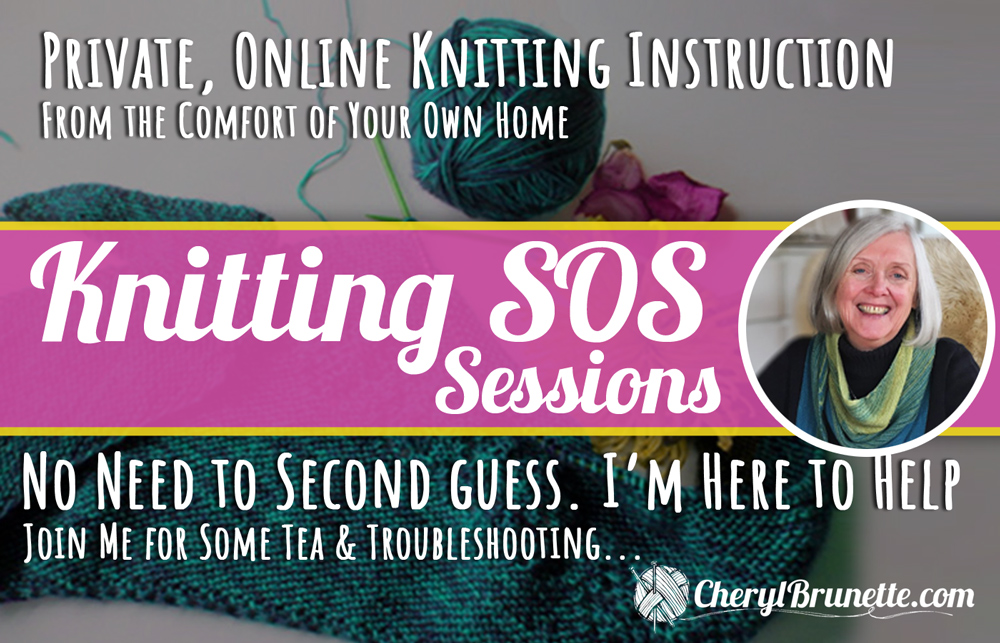 Are you stuck on a project because you don't know how to do the next step? Do you wish you had a neighbor or grandma who could help you figure it out so that you can get on with it? Well, I would be delighted to be your Knitting Auntie . . .
More local yarn shops are closing every year, so you may not have someone close by to ask for help. But thanks to the internet (and my new, zippy broadband service), we can sort out your knitting struggles online no matter where you live.
So if you need some professional advice, let's get you scheduled for one of my SOS sessions.
The 30-Minute "Laser" SOS Session is ideal for a single issue or a couple of quick problems. How would you approach knitting that Kaffe Fassett intarsia motif that looks like a cross in a rectangle? Why can't you get that 10 stitch wide add-on lace to work (it looks so wonky)? [p.s. I tracked it to a single number error in the pattern.] What did I do wrong here? (You can tell it doesn't look right but you don't know what you did or how to fix it.)
The 90-Minute "Extended" SOS Session gives us time for more in-depth problem solving. We can walk through a confusing pattern together, or analyze how you might rescue a sweater, or repair the cuffs and bottom ribbing. Or . . . you can make a pile of problems and we will work through as many as we can in 90 minutes
Either way, I'll give you the best I've got from my 60+ years of experience knitting and decades of teaching.
I can't wait to meet you!
Technical Requirements
In some ways, I'm pretty old school (my preferred calendar is made out of actual paper) but I have come to embrace technology when it furthers learning and/or loving.
Since the SOS session does require video technology, there are a few technological requirements you must have (or find or create) in order for it to work.  But don't worry, if you've managed to make a skype or facetime call, this should be easy peasy.
High-speed internet access
A video-capable device such as a phone, tablet or lap top
The video software we will use is called Zoom, so you'll need to download the software prior to our call. (Don't worry, I'll send you a link once you book)
And of course, a cozy, quiet place to have our call where we won't be distracted by background sounds and you can enjoy a cup of tea is a must-have, as well!
Session Types

30 minutes for $97
90 minutes for $197